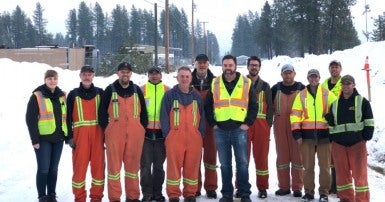 Last summer, CUPE 4728 members embarked on a water main development project, the scope of which was the largest in recent memory for Grand Forks, BC. With 13 of the local's 18 members putting in 10-hour days and four-day weeks, work that began on August 26 was completed in less than three months (November 21). Budget savings amounted to $400,000, the difference remaining from the estimated cost for private contractors.
"After many years of requesting involvement in capital projects for the City's development and being rebuffed on numerous occasions, it was with our heads held high that we reported this completed capital project," said CUPE 4728 President Sukie Lawrence.
"We believe in our members. CUPE 4728 knows we are capable of saving the City of Grand Forks large sums of money by doing certain jobs in house where qualified."
Lawrence, thanking outgoing Operations Manager Dave Reid for his support of CUPE's in-house proposal, said that Local 4728 members removed approximately 250 metres of existing PVC and Ductile Iron water pipe and installed 675 metres of new PVC pipe, most of it 250-millimetre piping with some 50-millimetre fire hydrant service mains, as well. The members also worked diligently to complete 400 metres of the new road.
City management had received an estimate of approximately $750,000 to complete the job with contractors. In the end, CUPE 4728 provided the same service and quality of work for approximately $350,000.
"Going forward, the CUPE 4728 executive hopes this example serves as a constant reminder that, with good communication and trust between unions and management, great savings can be obtained for our respective communities," said Lawrence.
"With Dave Reid leaving his position with the City of Grand Forks, we sincerely hope that the new management team recognizes the significance of this Capital project and the large savings provided by the dedication and professionalism of CUPE local 4728 members."
Visit the CUPE BC gallery to view photos.